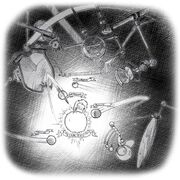 The Daylight Savings Device is a magical device contrived and designed by Benjamin Franklyn where, by a system of mirrors and lenses, light is captured, condensed and filtered. During James Potter and the Hall of Elders' Crossing, it hangs in the turret of the Southwest tower of Hogwarts, which has been turned over to Alma Aleron as their Common Room during their stay at the school. Some believe that it is quite possibly, at least in part, responsible for Franklyn's longevity.
Appearances
Edit
Ad blocker interference detected!
Wikia is a free-to-use site that makes money from advertising. We have a modified experience for viewers using ad blockers

Wikia is not accessible if you've made further modifications. Remove the custom ad blocker rule(s) and the page will load as expected.