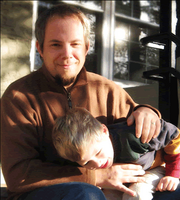 George "Geo" Norman Lippert
(better known as
G. Norman Lippert
), is an American author and computer-animator best known for writing the
James Potter series
of books, an uncanonical sequel-series to
Harry Potter
that has earned him the nick-name, the "American Rowling".
Lippert's debut novel, James Potter and the Hall of Elders' Crossing, was released online in 2007 to critical and commercial acclaim. Mistaken as actually being written by Rowling herself, it become the subject of much controversy. After living a series of legal and negative situations following the book's release, he went on to make an entire series about James Potter, which today, is an international success, and the subject of the independently released, James Potter film series.
He currently lives in Erie, Pennsylvania with his wife Jael, and two children, Zane and Greer.
Bibliography
The James Potter series:
Other Books in the James Potter universe:
Other Works
Trivia
- Lippert's son, Zane, was actually the inspiration for Zane Walker in the James Potter series.
- In James Potter and the Vault of Destinies, there is an inside reference to Lippert and his family.
for more information about g.norman lippert and his books, go to www.gnormanlippert.com.
Ad blocker interference detected!
Wikia is a free-to-use site that makes money from advertising. We have a modified experience for viewers using ad blockers

Wikia is not accessible if you've made further modifications. Remove the custom ad blocker rule(s) and the page will load as expected.