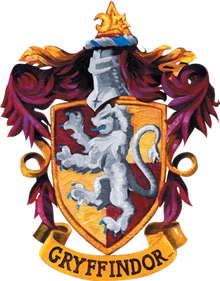 Gryffindor is one of the four student Houses of Hogwarts School of Witchcraft and Wizardry, founded by Godric Gryffindor. Its emblematic animal is the lion, and its house colours are scarlet and gold. Minerva McGonagall is the most recent Head of House. Sir Nicholas de Mimsy-Porpington, also known as "Nearly Headless Nick" is the house ghost. The particular characteristics of students Sorted into Gryffindor are courage and chivalry.
Gryffindor corresponds roughly to the element of fire[1], which may partly be the reason for its colours.
See also
Notes and references
Ad blocker interference detected!
Wikia is a free-to-use site that makes money from advertising. We have a modified experience for viewers using ad blockers

Wikia is not accessible if you've made further modifications. Remove the custom ad blocker rule(s) and the page will load as expected.