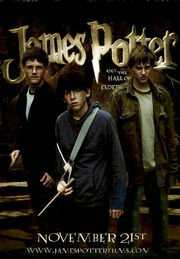 James Potter and the Hall of Elders' Crossing
is an independent short film directed by Kellen Gibbs that is based on
the novel of the same name
. The film was released online in November 2009, with a musical score done by Canadian composer, Isaias Garcia. It was followed by a
sequel
, and can be freely seen in its entity on
youtube.com
.
Other Films by Kellen Gibbs
Edit
The Freezing Season
The Moment I Was Alone
The Sky Won't Fall
What Makes Us Human
Lost in Limbo
Ad blocker interference detected!
Wikia is a free-to-use site that makes money from advertising. We have a modified experience for viewers using ad blockers

Wikia is not accessible if you've made further modifications. Remove the custom ad blocker rule(s) and the page will load as expected.