Vampire house is a house at Alma Aleron University. As one of the dark ones (whether you truly are a vampire or not), you are cursed to a life of drama, passion, and being misunderstood by your mortal inferiors. Your ego is prodigious, as is your disdain for those of lesser intellect, style and wit (which includes, of course, anyone who is not a member of your house). You love the dark corners of life and thrive on the lusty elixir of other people's pathos. To you, the drama of life is a tragedy, and you are the one conducting the orchestra. Your best magical skills are hexes, curses and weather conjuring.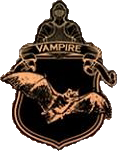 Very simple: Walt Disney obtained a quantity of properties and furnishings from the Vanderbilts (who were, of course, secretly a pureblood wizarding family) during their economic downfall. Among these items was a chest of mysterious blueprints, paintings and drawings. To Disney's great surprise, one of the drawings-- a child's charcoal sketch of a happy mouse piloting a steamboat, moved as if it was alive on the paper. Amazed and inspired, the Muggle entrepreneur and film-maker hired artists to reproduce the effect of the strange, magical drawing. The result, as we all know, changed motion pictures forever. Much later, one of the strange blueprints (that of AAUs Erebus House) was rediscovered and used as the basis for a building at a Disney theme park. It is no coincidence that that park is known as "the magic kingdom".
Ad blocker interference detected!
Wikia is a free-to-use site that makes money from advertising. We have a modified experience for viewers using ad blockers

Wikia is not accessible if you've made further modifications. Remove the custom ad blocker rule(s) and the page will load as expected.